KCU News: November 2018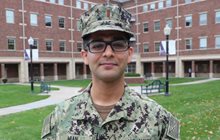 KCU Military Students Salute Veterans
Kansas City University of Medicine and Biosciences is proud to be one of only three medical schools in the nation to offer a specific track of military medicine to students enlisted in the armed forces and the National Guard.
Our Leaders Must Choose Love Over Hate
"Distilled down to its essence, there are fundamentally only two things that divide people in this world: those who hate and those who love." In the wake...